Summer Staff
A SUMMER THAT LASTS A LIFETIME
You've got to make your summer count, and working at Camp Sloane is one of the most life-impacting jobs in the world. 95% of staff indicate that working at camp helped them improve critical personal and professional skills that will be career assets. There are so many incredible reasons to work at camp for the summer, it's almost impossible to list them all! Here are just some of the highlights:
Develop leadership, communication, and teaching skills
Form lifelong friendships with people from around the world
Be a role model and make a positive impact on children
Professional training in working with children; behavior management, conflict resolution, group dynamics, risk assessment, and more.
THE BENEFITS
Need more convincing? When you join our team, you'll receive:
Competitive salary
Free room and board
Specialized training & certifications (e.g. First Aid, CPR, Lifeguarding, High Ropes, Archery)
Strong letters of recommendation
An internship unique to you
Networking opportunities with staff, alumni, and professional organizations
Working at camp is one of the most demanding and rewarding jobs you will ever have! You will learn more about yourself than you can imagine and will leave at the end of the summer having gained confidence, independence, and skills for life.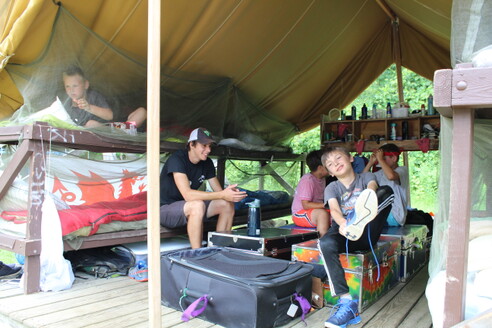 OUR CAMP
Founded in 1928, Camp Sloane is located on 270 acres in the Northwest corner of CT (just 2.5 hours from NYC), in the heart of the Berkshire Mountains. We live in canvas-walled, platform tents (think 'cabins with canvas walls'), experiencing all that the great outdoors has to offer. We firmly believe that camp is for all, & everything that happens here is done with our core values of Caring, Honesty, Respect, & Responsibility in mind, as well as our camp motto of 'Others'.
OUR CAMPERS
Each summer, we welcome over 700 campers, ages 8-16 (rising grades 4-11), from all over New England and the Northeast, and around the world. We have a great mix of new campers and campers who have spent multiple summers at Sloane. Our campers come from a diverse range of backgrounds and exhibit behaviors typical of their ages.
OUR PROGRAM
Our co-ed camp helps kids 'unplug' from technology (no phones allowed!) so they can make even better connections with staff and each other. For our campers, being at Sloane is a chance to get away from all the stresses of school and life and just have fun. We provide a choice-based, progressive program that fits the individual needs and interests of each camper - in all of our activities, we strive to empower campers with the confidence and character they need to reach their full potential.
OUR STAFF
Every summer, we hire around 100 college students and young professionals from around the world to join our team. We look for staff with positive attitudes, strong work ethics, caring personalities, and a passion for working with children. Many of our staff are former campers, bringing with them a sense of tradition, while our new staff members are a great source of energy and fresh ideas.
APPLY NOW
The application process is competitive, and applicants will be hired on a rolling basis until all positions are filled. Apply now!